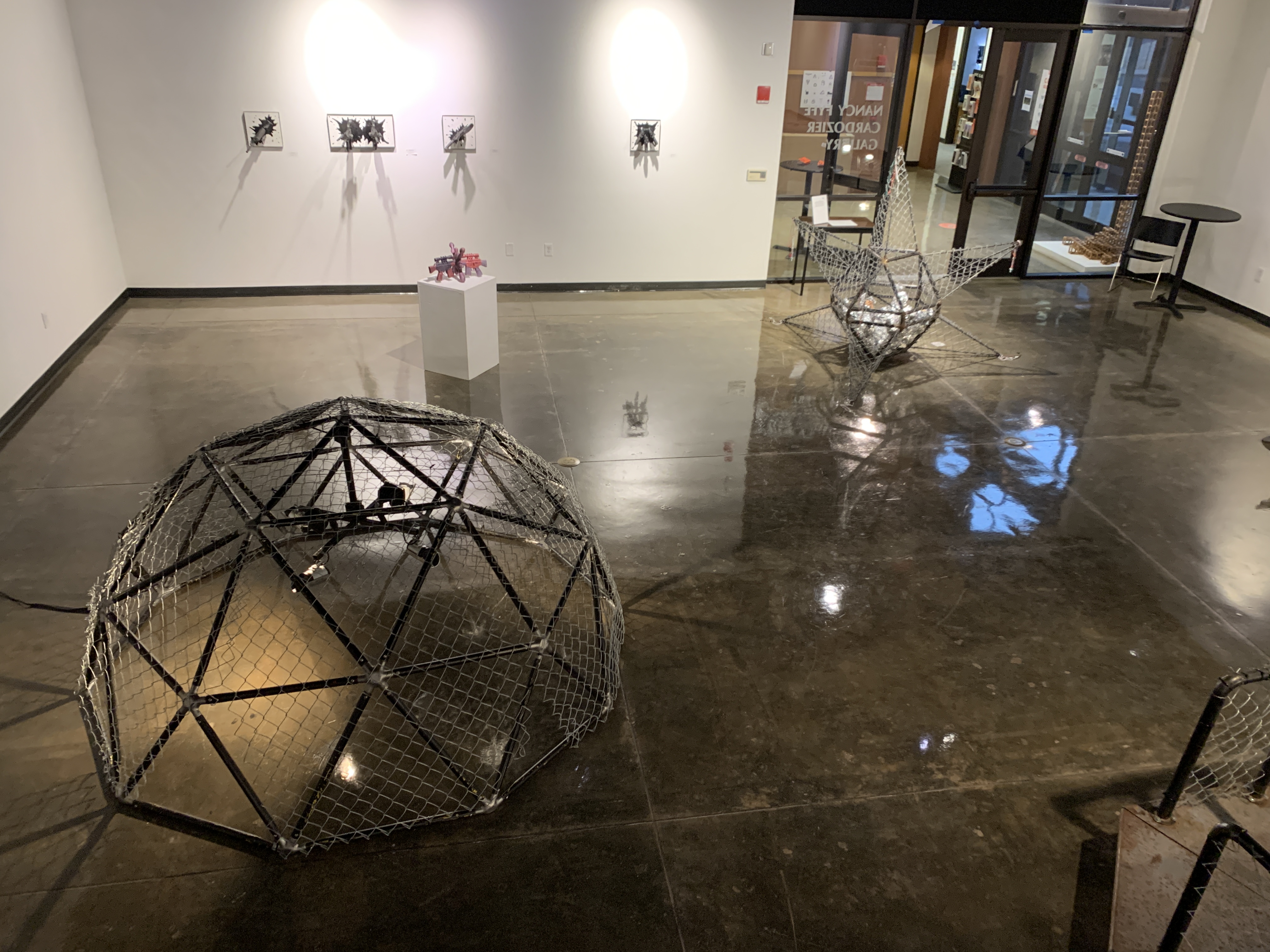 Come play in Chupa Cabrles' playground!

These multi-media installations and sculptures combine playful—even comic—imagination with today's headline topics—immigration, financial disarray, consumerism, and terrorism. You'll be shocked and amazed, intrigued and entertained. You'll want to come back again, and the experience will change the way you watch the evening news, the way you view ads and commercials.

Exhibitions are sponsored by UTPB Student Services & Odessa Arts


About Angel Cabrales

Angel Cabrales, M.F.A., is an Assistant Professor in Sculpture and an active artist both Nationally and Internationally. Cabrales teaches all levels of Sculpture, created Experimental Systems in Sculpture focused on STEAM elements in art and Neon Sculpture. Currently, he was awarded a Maker Space and suite in the new Interdisciplinary Research Building for his team, EASSI (Engineering + Art + Science = Social Impact) to work on community engaged projects involving arts and sciences. He also serves on the Dean's Interdisciplinary Task Force for Community Engagement, a board member for SunHouse Arts' Work Project, a member of the JUNTOS art collective and a juror for the 2020 Student Achievement Awards for Sculpture Magazine. Angel's exhibition record, includes the International TransBorder Biennial, Texas Biennial in Austin, TX, and The Sculpture Biennial of Texas. Cabrales is also featured in the Icons and Symbols of the Borderland book by Diana Molina and La Frontera: Artists along the Mexican/American Border by Stefan Falk. He is represented by the Ro2 Gallery in Dallas, TX and the Royse Contemporary in Scottsdale, AZ.

Cabrales examines the dehumanization of people through the politicization, marketing and spin that we are subjected to in our everyday lives by placing issues in an appetizing, yet, disturbingly consumable form through the exploitation of commercialism and nostalgia. Through multi-media installations and sculptures, he comments on immigration, inequality and domestic terrorism to not only heighten awareness of the subject matter, but to begin conversation where most would rather be entertained. Angel views everything as an artistic resource and utilizes this in all his creations. From his extensive experience with a variety of mediums and styles, to the intangibles, such as his upbringing, his work grows and expands with the requirements presented from each new idea. The artwork's concept ultimately dictates the medium needed for its creation, so artistic evolution is intrinsic in his philosophy.